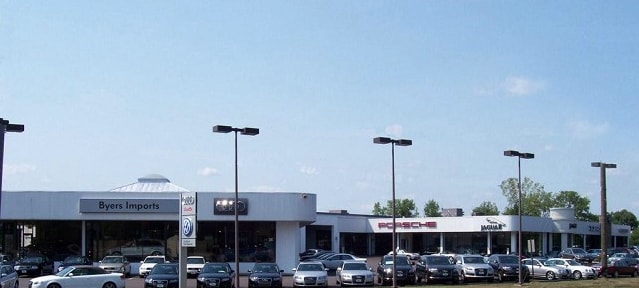 At Byers Imports, we constantly strive to offer our customers the best car-buying experience by dedicating ourselves to client satisfaction and unparalleled customer care. We're committed to earning your trust, which is why we're known in Columbus and around Ohio as the premier luxury car dealership that you can rely on. We understand that buying a car can be a long and tedious process, not to mention frightening and confusing if it's your first time. To help cut back on the stress and reduce the hassle, we've put together a list of the most frequently asked questions we hear during this time. If you have a question that wasn't answered on this list, we invite you to contact Byers Imports or drop by our showroom where any one of our friendly, knowledgeable team members would be glad to help you.
Common Car Questions
Q: Why is test driving a car important?
A: Every vehicle is unique, bringing its own qualities and features to the table. Until you're behind the wheel and experiencing these firsthand, you'll never know how it handles, how wonderfully comfortable it is, or how technologically advanced your choice is. Plus, what better way to find your ideal car than to test it out yourself? With our exclusive selection of luxury vehicles, we're sure one of our premium cars has something for everyone.
Q: What is the difference between used and certified pre-owned?
A: While used and certified pre-owned vehicles have both had previous owners, there is a distinction between the two. Used vehicles can be any make or model and are priced as the most affordable of the inventory. Byers Imports is proud to offer an extensive inventory of used vehicles that fit your lifestyle and your budget. Certified pre-owned options offer extended warranties backed by the manufacturer, each one undergoing a rigorous inspection to ensure it meets our high standards before being added into our certified inventory.
Maintenance and Services
Q: How important is car maintenance?
A: Your vehicle gets you everywhere you need to go: home, work, school, and the occasional road trip. It takes care of you so it's only fair that you return the favor. Bringing your car in for routine maintenance such as oil changes, filter replacements, and more can keep your vehicle running in peak condition for years to come. It also helps keep any surprise issues at bay since our certified service technicians will be keeping an eye on everything. Extending the life of your car can be simple when you trust Byers Imports to help.
Q: How do I know when I need an oil change?
A: The standard rule of thumb is to have the oil changed in your vehicle every 3,000-5,000 miles or every three months. Following this guideline will help your car achieve its best overall performance. Changing out the oil helps keep the engine lubricated and keeps it running smoothly.
Finances and Trade-In Valuation
Q: How do I find out what my trade-in is worth?
A: If you want to get ahead of the game, try using our Online Trade-In Appraisal tool and you can see an estimate of what your vehicle is worth. The trade-in option at Byers Imports is used by numerous customers and we apply the fair market value towards their purchase.
Q: Can I buy a car with no credit?
A: While credit is one of the most important things in the auto loan process, Byers Imports will do everything we can to work with you. Our excellent finance team will work hard to find the best options possible for loan terms, no matter what your credit score may be. We do suggest that customers review their credit score before coming in to avoid any surprises.
Hours of Operation and General Questions
Q: Are you open on Sunday?
A: To allow our highly dedicated staff a day of rest with their families, Byers Imports is closed on Sundays. We are open Monday to Friday from 9am to 6pm, and Saturdays from 9am to 5pm. We look forward to helping you with all of your car-buying needs.
Q: Why should I choose your dealership?
A: Byers Imports makes sure that when you walk through our door, you're taken care of like you were family; because you are. Each team member will treat you with respect and courtesy, from sales to financing to our service center. We're here to learn about your needs, your expectations, and your hopes while we strive to earn your trust. We're excited to have the opportunity to work with you and assist you on your automotive journey.